"I'm barely 27 and if it were not for immunotherapy and cancer research, I would not have seen 25."  So starts Stefanie Joho speech at a 2017 Congressional Hearing called "Progress in Immunotherapy: Delivering Hope and Clinical Benefit to Cancer Patients."
When Stefanie was 22, she was diagnosed with a very aggressive Stage II colon cancer.  Her cancer quickly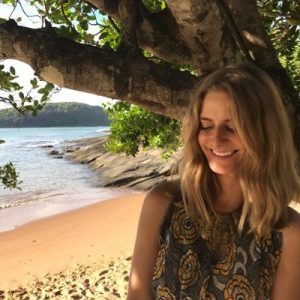 metastasized to her abdominal cavity.  She underwent two surgeries and chemotherapy but at age 23 her oncologist deemed her inoperable and incurable…there was nothing he could do.  One of the best cancer hospitals in the world sent her home to New York City.
"That was it, I was pretty much ready to give up," she said.   "I really was at the end of the road, barely 100 pounds."  But Stefanie's little sister, Jess, wouldn't accept that it was the end.  She got on the Internet and put words that she had heard the doctors use into the search engine, trying to find something more for Stefanie to do.  She found a clinical trial that had started at John's Hopkins University in Baltimore.
They connected with the study's co-director, Dr. Luis Diaz who told Stefanie, "Get down here as fast as you can.  We've been having tremendous success with patients just like yourself."
Stefanie's pain from the abdominal mass pressing on her back necessitated high levels of narcotics.  Three days after starting infusions of the anti-PD-1 therapy, she felt relief.   "Within 3 months, my tumor that was completely inoperable had shrunk by 65%.  Within a year and a few months, I was cancer-free," Stefanie related to her audience.
Keytruda (pembrolizumab)  is the immunotherapy medicine that cured Stefanie.  It is a checkpoint inhibitor, a substance that takes the brakes off the immune system. With this medication, the immune system activates and takes out the cancer.
Stefanie has Lynch Syndrome. Her tumor had MMR deficiency or mismatch repair deficiency which means that what caused her cancer was mistakes made in copying the DNA.  Usually mistakes are repaired as they are made when DNA copies itself.  With this repair deficiency, the mistakes are not fixed.  This meant that her tumor had lots of mutations that her activated immune system could attack.

"I would not be standing here if it were not for 30 plus years of basic research (that actually started in bacteria),  but furthermore, early clinical research and experimental therapy.  From my end of things, it felt like a miracle, but I know the amount of work, the amount of effort and brilliant minds that go into this."
One of the lessons to learn from Stefanie's experience is that it is important to be your own advocate, to search for clinical trials and to do research. The oncologist that sent Stefanie home to die was unaware of the clinical trial at Johns Hopkins that saved her life.
She believes that it's important to find out which cancer centers have the most experience dealing with your cancer and to look for the experts and innovators in the field. At this time, what Stefanie calls ""a paradigm shifting moment in cancer history" it is especially important to become educated in the areas of genetics, genomics and genetic testing if you are dealing with cancer.
Below is the full video of the American Association for Cancer Research (AACR) and the Society for Immunotherapy of Cancer (SITC) congressional briefing held on Wednesday, July 19 titled, "Progress in Immunotherapy: Delivering Hope and Clinical Benefit to Cancer Patients."