In Before Angelina Jolie: Karen Malkin Lazarovitz's BRCA Journey (Part 1) Karen explained her experience of learning she had the BRCA mutation. This mutation significantly increased her risk of getting breast cancer (87% risk) and ovarian cancer (54% risk). Here is the rest of her interview.
Why Karen Had A Double Mastectomy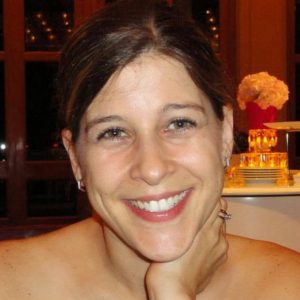 Waking up everyday thinking that today is the day I will get cancer is a terrible burden to bear. I did what I had to do. I don't have any regrets with the decisions I have made. I have heard way too many stories of women who chose surveillance only to be told that they have breast or ovarian cancer. I refuse to be one of those people.
Breast reconstruction isn't a "boob job"
Can you describe your experience with breast reconstruction and what you learned about it? What would you advise other women to do based on your experience?
We all hear about breast cancer and mastectomies but for some reason, many compare it to a "boob job". It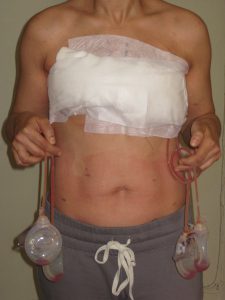 is far from a boob job, it is traumatic, painful and life changing.
I had a mastectomy with reconstruction. My nipples, areolae and other tissue were all removed.
I had tissue expanders (skin stretchers) placed under my pectoral muscle to stretch the skin to accommodate implants at a later date. The tissue expansion process was extremely painful. I was not prepared for that and the doctors did not let me know that it would be so painful.
After six months, my tissue expanders were removed and I had permanent implants put in. I had an additional surgery to have fat injections (liposuction removed from one area of your body and inserted around the implants to create a more realistic look and help with pain issues for some).
Unfortunately, my implants would not stay in the pockets that were created. I started feeling pain and it was affecting my daily life. I went back to my plastic surgeon and had to undergo another surgery to fix the problem. It did not work and over the course of 2 years I ended up having 4 more additional surgeries to try and correct the problem. It didn't work and the plastic surgeon told me that there was nothing else he could do. I found this completely unacceptable as I was now living in daily pain that was pretty unbearable.
I started researching to try and find another surgeon and after about 8 months found one who agreed to start over from scratch. He removed the round implants and used teardrop textured implants. He also used alloderm (cadaver tissue that is used as a sling to hold the implants up) and then used more fat injections to help with all of the chronic pain. He stitched my implants into my ribcage. It was a very painful surgery.
Fortunately this surgery was successful and the pain is no longer unbearable. I do still suffer some pain issues but nothing like what it was before.
I would advise other women to talk with at least two surgeons before they make a decision as to which doctor to go with. I also think it is extremely important to speak with others who have gone through similar surgeries. Being your own advocate is so extremely important and the information you can gather from others is so important to the decision making process.
Side Effects
Can you talk about the pain you are still in?
Between all of the surgeries due to complications, scar tissue and the implant sitting in the wrong place, my nerves have been damaged. I now deal with pain in my armpit, sternum, elbow and around the implant. Thankfully it is not the way it was before my final surgery but I still have lingering effects.
Doctors don't talk about the complications or the pain issues post mastectomy. It wouldn't have changed my decision to have the surgery but it would have prepared me better as I would have known what to expect.
Have you lost all the sensation in your breast?
I have. I do however deal with a lot of itchiness which is quite frustrating as I can't feel when I am scratching. I also deal with phantom pains.
Women describe changes in libido after the surgeries you have had. Do you have this and how do you cope with it?
I am fortunate that my breasts were never an erogenous zone for me so that has not affected my libido. The hysterectomy and oophorectomy have not been too terrible either. I do find that my libido is a little bit lower than it was but that means in my case, I just need to be a bit more conscious in making the effort with my husband. Some women however do have huge changes in libido. I suggest speaking with your doctor in that case as they might have suggestions to help.
Tattoos
Tell me about your tattoos. Describe your process of deciding to get tattoos.
I have always loved tattoos and after so many surgeries, I was not interested in another one to recreate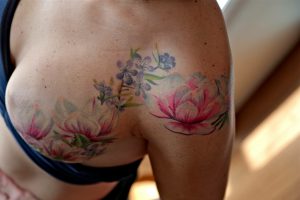 nipples. I knew I wanted to do something different. A tattoo was a perfect option for me. I started researching artists in my area. It was very important for me to connect with the artist who was going to tattoo me. I wanted the artist to be just as excited about the project as I was. I knew that I was going to share my process with the public to show them that you can define beauty any way you want. I met with a few artists and picked the perfect one. We automatically clicked.
I knew that I wanted something soft and I knew that I wanted flowers. My artist and I worked together tocreate the right design for me. Once she drew up an image, I knew right away it was meant to be.
I thought it would be painless as I had no feeling in my chest but boy, was I wrong. I felt every second of it. I'm not sure why. Maybe it was the scar tissue but it was very painful.
We had three sessions and it took a total of 10 hours. It was exactly what I wanted and it covered my scars perfectly. I chose to keep one side un-tattooed to show where I have come from. I liked seeing one side scarred and one side tattooed. I am proud of my decisions and what the scars tell as story.
You are very open with your children with regard to this physical change? What are your reasons?
I have always felt that my children deserve honesty. I have always provided them with age appropriate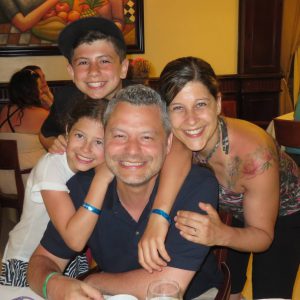 information. I want them to know that it is okay to look different (in regards to my mastectomy and lack of nipples). I want them to know that I did what I had to do in order to live a long, healthy life. I also want them to know that beauty doesn't mean a perfect body. I can be different and still be beautiful.
Photos
You have promoted photographs of mastectomy scars on Facebook. Can you provide our readers with an understanding of your rationale for this?
It was hard to share images but as soon as I did I was met with so much positivity. I wanted everyone to know that whether you have reconstruction or not, you can complete your journey any way you want. Doctors don't let you know that tattoos are an option and I wanted to share that information.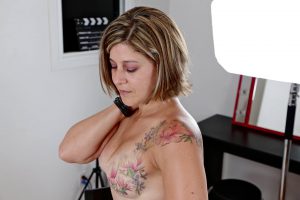 After mastectomy, your body does not look or feel the same. My breasts now have no feeling, I suffer phantom pain and itching. I have no nipples or areolae. On top of that I deal with nerve damage.
Women in general have such low self esteem when it comes to body image. I wanted women to know that they can feel beautiful after a mastectomy, reconstruction or not. It is okay to look different, to own our scars, to be proud of what we have accomplished, and sometimes even fake it until you make it!
We all have a story to tell. A mastectomy does change what we look like but it does not make us less beautiful. If more women see that "the norm" is no longer perfect bodies, then maybe more of us can feel more beautiful in our own skin. We can all define beauty on our own terms.
Watch Karen's Video "Beauty On My Terms"