What's in a name? A Lot
A one-woman campaign has been going on since 2009**.  It's led to a blog, a foundation, awards and an awareness day (February 2).  Yet this woman isn't done yet!
She's on a mission to change the name and the understanding of a terrible autoimmune disease that affects over 1.3 million in the US according to data from 2009.  It is more prevalent than other autoimmune diseases like psoriasis, Crohn's disease, Type 1 diabetes, lupus and multiple sclerosis.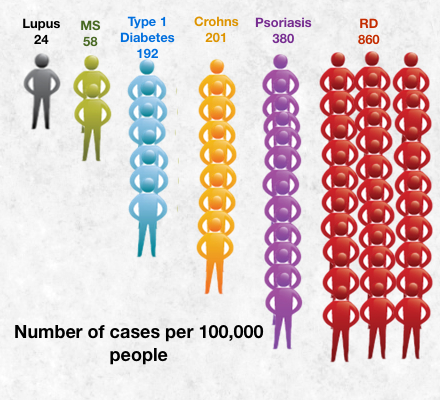 The RAWarrior
Kelly Young believes that this autoimmune disease should be called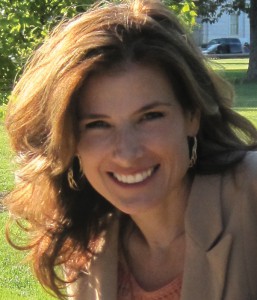 Rheumatoid Disease (RD) not Rheumatoid Arthritis.  There are several reasons.
First, the arthritis that is a symptom of Rheumatoid Disease is extremely different from osteoarthritis.  Osteoarthritis is associated with age.  In this disorder, the connective tissue is lost due to wear and tear of the joints over the years.  Hence it is a disease of older people.
In Rheumatoid Disease, joint pain is caused by the body's immune system running amok.  The immune system actually attacks the connective tissue of the joints.
Second, this autoimmune response doesn't end with just the joints, the body's immune system attacks organ systems as well.  So Rheumatoid disease is more like Type 1 diabetes than it is like osteoarthritis.
Third, Rheumatoid Disease happens to people who are young:  there is both pediatric Rheumatoid Disease and Rheumatoid Disease affecting people age 35-55.  This disease affects active, healthy individuals.
Fourth, symptoms that are less well known but just as debilitating include weakness, fever, fatigue, loss of appetite, pain, weakness and dry eyes.
Fifth, Rheumatoid Disease can be in all your tissues, wherever inflammation can occur.
Sixth, there is a mortality gap for those with Rheumatoid Disease.  While the general population has seen improvements in overall mortality rate, those with Rheumatoid Disease have not.   In other words, people with RD die earlier than the general population due to cardiovascular disease, lung disease, infection and an increased rate of cancer.
Even though it is a serious autoimmune disease, according to the American College of Rheumatology in 2007 the research funding per patient was only $25.90 compared to the other autoimmune diseases (lupus, Crohns, psoriasis, Type 1 diabetes and multiple sclerosis) where the average is $330.00 per patient.
Invisible Illness
Just like other Spoonies, people with Rheumatoid Disease "don't look sick."  In fact, they are often labeled "lazy."  Unfortunately, patients' physicians seem to think that their patients are not as sick as they say.  A 2010 study found that 1/3 of the RD patients differed from their physicians in assessment of the disease's severity.  In fact, if their RD didn't result in swelling, it was more likely that their physician downplayed their patient's experience.
RAWarrior
In 2006, Kelly was diagnosed with Rheumatoid Arthritis.   After spending years looking for a central location to find information on Rheumatoid Disease, in 2009 she started a blog called RAWarrior to do just that.
In 2011 she received the WebMD Health Hero Award.  That same year she founded the Rheumatoid Patient Foundation.
Bringing the truth about RD to others is essential to Kelly.  Unfortunately, the news media adds to the burden of those who suffer from RD.  Kelly has identified several problems with the coverage of RD.  One of the most flagrant is the victim blaming that suggests behavior change like diet and physical activity will improve or prevent the disease.   Unfortunately there is no evidence that diet and exercise could improve or prevent RD.   Many people with RD are healthy and active before the onset of RD.  The media also minimizes treatment for RD:  one of the medications used to treat RD is methotrexate, a chemotherapy drug.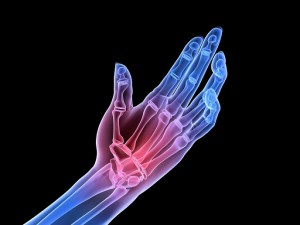 Even with the constant pain from RD (Kelly, as many others, has RD that is resistant to the "regular treatment"), Kelly has brought people together to help each other.  From suggesting a RD handshake (as a minister's wife, Kelly shakes many hands) to researching and writing white papers about the patient experience, Kelly provides a needed voice. The long term goals of Rheumatoid Patient Foundation are evident in all the work Kelly has done so far. Their call to action includes:
Awareness – To create greater public awareness of the nature of rheumatoid disease.

Support – To develop resources to support patients in effective healthcare decisions and in advocating for themselves and others.

Advocacy – To advocate for quality healthcare, appropriate disability accommodations, applicability of scientific research, accurate media coverage, and fair governmental policies.

Cure –To contribute to and promote scientific discovery that leads to a cure.
One million three hundred thousand people in the US need to be taken seriously by the healthcare system as well as the media.  One million three hundred thousand people in the US need equitable funding for research on this dreadful disease.  Thankfully one person has made it her mission to educate and make life better for people with Rheumatoid Disease.  Thank you Kelly Young.
**The content of this blogpost is based on the work of Kelly Young. Please visit her website, The Rheumatoid Patient Foundation and her Facebook community.