You may not realize it but some people have glass in their bodies. Created to replace damaged body parts, bioactive glass does that and more.
Being biologically and biochemically inert when adjacent to body fluids was a prerequisite of biomaterials. But bioactive glass is different – it is biocompatible allowing for a bond to form between the implant and adjacent bone tissue.
Bioactive glass was born out of a conversation between a colonel in the US Army and a material science research professor, Larry Hench, in 1967. The colonel told the researcher that injured soldiers who received metal and plastic polymer implants (biochemically inert materials) were having poor results. The implants that were surgically installed to repair broken or lost bones were being rejected by their bodies.
Hench hypothesized that the metal and plastic polymer implants were being rejected because they were not in any way like what they were replacing. He decided to try creating a material that was made of the same mineral substance — hydroxyapatite — of which human bones are made. He made a glass containing sodium oxide, calcium oxide and phosphate (45SiO2–24.5Na2O–24.5CaO–6P2O5). This glass formulation, called 45S5 Bioglass®, not only bonded to bone but it also stimulated bone cells to grow and repair.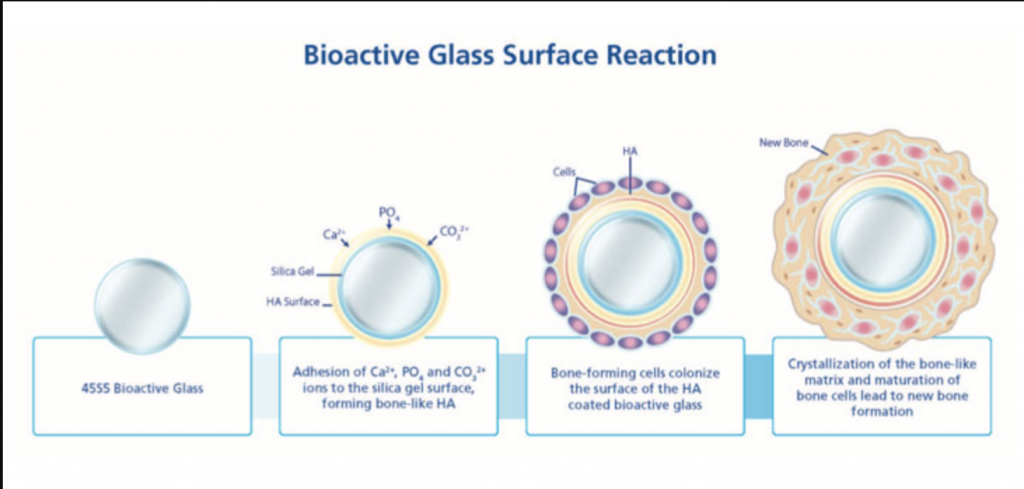 Since this first formulation, there has been much research and work in bioactive glasses. Bioactive glass in the form of radioactive glass microspheres have been used to treat cancer of the liver. Experimental work with bioactive glass on soft tissue regeneration and nerve regeneration has been conducted. Delivery of medications is in the works.
So bioactive glass has been used for over 50 years to treat bone and dental defects. Who would have guessed that glass could be so versatile and effective in regenerative medicine. The future holds great things for glass!
Feature Image: Image by Pete Linforth from Pixabay
Reference:
Baino, F., Hamzehlou, S., & Kargozar, S. (2018). Bioactive Glasses: Where Are We and Where Are We Going?. Journal of functional biomaterials, 9(1), 25. https://doi.org/10.3390/jfb9010025