"People are like peonies, they need a good hard frost to bring out the character." ~Francis "Doc" Winter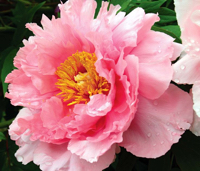 "Doc" Winter was a Midwesterner.  Born in Iowa in 1931, in the midst of the Great Depression, he grew up on a small farm.  He knew about hard frosts. Struggle, pain and suffering are part of life.  Joy, love and hope are too.  A recent opinion piece published in the
British Medical Journal (BMJ) explains
, "Hope may be one of most powerful therapeutic aspects of the doctor-patient relationship." So what is hope and what can be done to increase hope?   There are a lot of definitions.  Yet, the one that the BMJ article relies on is based in social psychology.  It is about having goals and aiming to achieve them.  "Hope is a goal oriented way of thinking that makes an individual invest time and energy in planning how to achieve their aims." Healthcare providers worry about giving "false hope."  Yet as
one caregiver wrote when asked what she wished her doctor knew
,
"I wish my loved one's oncologist knew that every time he tells us a good test result and then says 'but we all know where this is headed' he is sucking the joy out of small victories and the time we have left together. PLEASE get over thinking you may somehow give us false hope if you allow a positive thought out of your mouth. We need you to be in our corner."
As a
recent survey
of patients with advanced cancer found, most (98%) of patients felt that when doctors discussed their prognosis in a realistic way, were offering up-to-date treatment in a way that acknowledge them individuals and were collaborative and supportive in their discussions, that they experienced more hope. In her
TedTalk, What makes life worth living in the face of death
, Lucy Kalanithi describes losing her husband Paul Kalanithi, author of
When Breath Becomes Air,
to stage 4 lung cancer.
"The clinicians taking care of Paul gave me an even deeper appreciation for my colleagues in health care.  We have a tough job.  We're responsible for helping patients have clarity around their prognoses and their treatment options, and that's never easy, but it's especially tough when you're dealing with potentially terminal illnesses like cancer.  Some people don't want to know how long they have left, others do.  Either way, we never have those answers.  Sometimes we substitute hope by emphasizing the best-case scenario.  In a survey of physicians, 55 percent said they painted a rosier picture than their honest opinion when describing a patient's prognosis.  It's an instinct born out of kindness.  But researchers have found that when people better understand the possible outcomes of an illness, they have less anxiety, greater ability to plan and less trauma for their families."
In other words, people are able to have hope.
"Hope" is the thing with feathers –
That perches in the soul –
And sings the tune without the words –
And never stops – at all –
And sweetest – in the Gale – is heard –
And sore must be the storm –
That could abash the little Bird
That kept so many warm –
I've heard it in the chillest land –
And on the strangest Sea –
Yet – never – in Extremity,