When you're 8 years old, jumping rope, playing dolls, swinging on swing sets and doing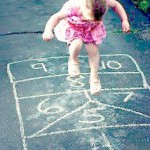 homework are girlhood pursuits.  Discovering  "Lumpy Luey" in your left chest wall isn't.
In 1978, Stephanie Dodds' way of  coping with the diagnosis of Ewing Sarcoma was to give it a name and focus on "getting rid of it."  This rare cancer starts in the bone or in soft tissue surrounding the bone and affects only around 225 children each year.  With today's treatment, localized Ewing Sarcoma has a five year survival rate of 70%; for metastatic Ewing Sarcoma the rate is 15% to 30%.
"Cancer had not ever touched my life…I had not been exposed to it because, let's be honest, children with cancer in the 70's died," Stephanie relates.**
But after a biopsy and cancer treatment that lasted almost two years, Stephanie was one of the lucky ones. She lived.  "I was treated with 7 rounds of chemotherapy, including Vincristine, Doxorubicin, Cyclophosphamide, and Daunomycin and 6 weeks of chest radiation."
Perhaps it's not surprising that years later, Stephanie became curious to learn about what happened to her.  "As I entered…my late teens, I asked to review my records with my parents…." Both her parents were in the medical and nursing professions.  "The consent forms that they signed stated that there was a possibility of heart failure at some point in my future. This was a risk they were willing to take. They had nothing to lose and their little girl to gain."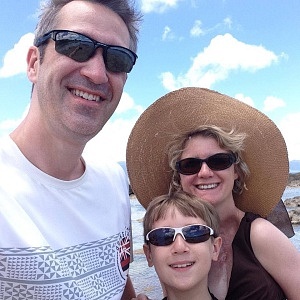 Eventually, Stephanie went to nursing school, got her masters degree, married (now she is Stephanie Zimmerman) and helped set up a Survivorship Clinic at Dartmouth which "provided ongoing personal support and education for childhood cancer survivors and their families."  In 2004 she and her husband had a son.
"I grew up thinking, 'I am a well person,'" Stephanie says, "I haven't seen an oncologist in 38 years."  So primary care doctors provided her care.  When she complained of feeling tired, her doctors naturally put it down to being a mother of a toddler.
Finally though, as she became increasingly exhausted and short of breath,  doctors checked her heart.  In December 2007 she had two heart valves successfully repaired at Cleveland Clinic.   But, "the dramatic pressure changes…resulting from well functioning valves, unmasked the fact that my left ventricle had been destroyed by the treatment I received in 1978."
Stephanie is alive today through the miracle of a heart transplant.
Late Effects of Cancer Treatment
A study of Childhood Cancer Survivors, funded by NCI, started in 1994.  Researchers surveyed 14,370 survivors who had lived 5 years or more after treatment for childhood cancer that was diagnosed between 1970 and 1986.  Because of treatment changes, another group of 10,102 survivors diagnosed between 1987 and 1999 were added to the study. They also collected information from 3,737 siblings of the survivors as comparison.
When compared with their siblings and the general population, by the time these childhood cancer survivors were 50 years old, over half had had a severe or life threatening condition.  Only 19% of their siblings had had such a condition.
Some of the severe or life-threatening conditions that can occur in people treated for childhood cancer include:
In the  St Jude Lifetime Cohort Study (SJLIFE) 1713 participated.  Their average age at diagnosis was 7.5 and were around 33 years of age at the time of recruitment.  The participants were screened for a variety of organ dysfunctions.  Many of the participants were diagnosed with severe medical conditions during this screening.  Over 95% suffered from a serious chronic condition which included pulmonary, cardiac, hearing and more.
Physicians of Survivors Are Unaware
Sadly, survivors and physicians are unaware of the medical issues facing childhood cancer survivors.  Stephanie (on Twitter @KindredBelle) is on a mission to increase awareness of the possible late effects of treatment from childhood cancer, "I am educated and equipped to carry my risks well. I am the exception and that is what breaks my heart while fueling my passion."
In collaboration with Judy Bode, BSN, Stephanie has created an award winning short documentary called "Resilient: the Story of the Late Effects of Cancer."  Their hope is that it will help to increase awareness among survivors and medical professionals.

In addition, the Children's Oncology Group has created Long-Term Follow-up Guidelines for Survivors of Childhood, Adolescent and Young Adult Cancer.  With around 14.5 million cancer survivors in the US, of which almost 400,000 are childhood cancer survivors, awareness of possible treatment effects is essential for health and quality of life.
A Final Word From Stephanie
"Late effects of cancer treatment are on the rise; survivors are under-informed and ill-equipped as are the physicians charged with their primary care. Late effects range from learning challenges to peripheral neuropathy and infertility to heart failure. What any one individual is at risk for, in the long term as they live out their cure, is rooted in the treatments they received, thus it behooves the individual survivor to know their treatment history like the back of their hand and take charge of their health and wellbeing."
**Based on March 8, 2016 phone interview and May 19, 2016 email correspondence