Smoking and Tobacco Products Sales in the News
According to a review of the history of tobacco control in the US, by the CDC, the Journal of American Medical Association (JAMA) in 1950, provided the first evidential link of smoking to cancers and other diseases.
It took 40 years for the Joint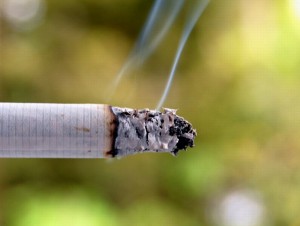 Commission on Accreditation of Healthcare Organizations (JCAHO) to announce tobacco control standards for accredited American hospitals.  These standards mandated that hospitals be  smoke-free by December 31, 1993.  They also required removal of cigarette and other tobacco product vending machines and hospital gift shops.
For almost 50 years, tobacco company executives denied that there were health consequences of smoking.  In 1998, tobacco executives finally admitted to Congress that smoking may cause cancer and that nicotine in cigarettes is addictive.
CVS Stops Selling Smoking and Tobacco Products
Now, in February 2014, CVS Caremark announced it would no longer sell tobacco products.  March 17, a group of 28 attorney generals from Washington DC, US territories and 24 states sent a letter to five retailers: Walgreens, Walmart, Safeway, Kroger and RiteAid.  The letter requests that these retailers–which have  pharmacies and drug stores in their market mix– stop selling tobacco and cigarettes, as their competitor, CVS has.  The letter describes how the activity of selling a product that is known to be deleterious to health is inappropriate for companies that are promoting health and being a source of community healthcare.
Although smokers are more likely to buy from convenience stores than from these retailers, reducing suppliers of tobacco products, especially if those suppliers are associated with health and healthcare, is another milestone in the path to real change.
Smoking and Tobacco Products Infographic
Below is an infographic created by Top RN to BSN which brings together information from the CDC, American Lung Association and MD Anderson Cancer Centers.