In May, the Journal of Clinical Medicine published an article titled "Hypertension, Thrombosis, Kidney Failure, and Diabetes: Is COVID-19 an Endothelial Disease? A Comprehensive Evaluation of Clinical and Basic Evidence." The authors put forward a hypothesis that SARS-CoV-2 infects the lining of the body's blood vessels.
The lining of blood vessels is called the endothelium. COVID-19 invades the body through cells that have angiotensin-converting enzyme 2 (ACE-2 protein) on their surface. The nasal passages are rich in ACE-2. But there are a lot of other areas of the body with cells presenting ACE-2 on their surfaces.
Symptoms that have been seen, like high blood pressure, thrombosis, cerebrovascular and neurologic disorder, and the long term forms of COVID-19, can all be tied to an infection of the endothelium of blood vessels. Endothelial dysfunction is the term used to describe a systemic problem where the endothelium of blood vessels lose their ability to work properly. Blood clots are formed.
Early on in the pandemic, physicians have observed that people who are obese, have diabetes and have cardiovascular disease are exceptionally vulnerable to COVID-19. As the authors of the article observe,
"Findings confirm a dual aspect of hypertension during COVID-19 pandemic: first, hypertension is the most common co-morbidity observed in COVID-19 patients; second, hypertension is evidenced in patients with worse prognosis and higher rate of death."
In an earlier post called "Happy Hypoxia" I shared an infographic which describes the devastating impact that this inflammation can have on all the organ systems of the body.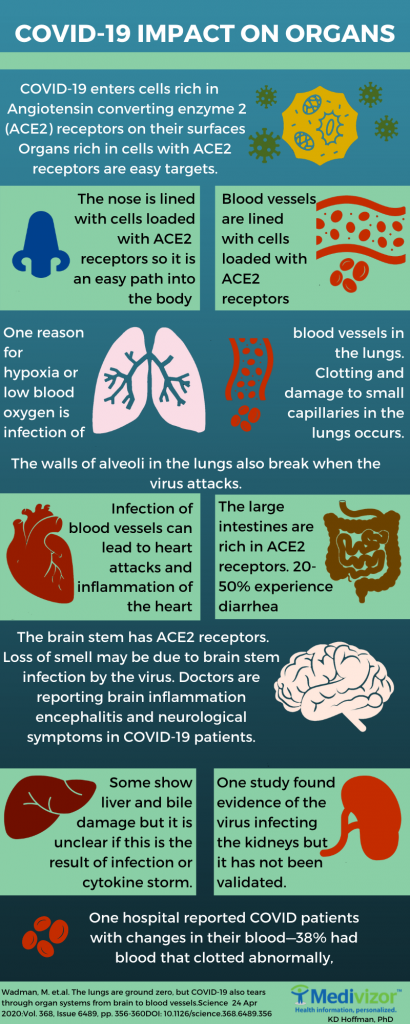 A recent study in The Lancet found elevated Von Willebrand factor ( a protein involved in clotting) in ICU patients with COVID-19. This study reinforces the notion that the blood vessel lining is a target of the virus. Yale Hospital system is now treating COVID-19 patients with aspirin to prevent clotting.
Image by Image by Paul McManus from Pixabay
Reference:
Sardu, C., Gambardella, J., Morelli, M. B., Wang, X., Marfella, R., & Santulli, G. (2020). Hypertension, Thrombosis, Kidney Failure, and Diabetes: Is COVID-19 an Endothelial Disease? A Comprehensive Evaluation of Clinical and Basic Evidence. Journal of clinical medicine, 9(5), 1417. https://doi.org/10.3390/jcm9051417
Goshua, G. et.al. (2020). Endotheliopathy in COVID-19-associated coagulopathy: evidence from a single-centre, cross-sectional study. The Lancet Haematology DOI:https://doi.org/10.1016/S2352-3026(20)30216-7