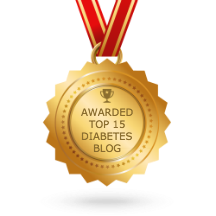 Medivizor has been named one of the Top 15 Diabetes Blogs on the web by Feedspot.  The ranking is based on
Google reputation and Google search ranking
Influence and popularity on Facebook, twitter and other social media sites
Quality and consistency of posts.
Feedspot's editorial team and expert review
Being one of the Top 15 Diabetes Blogs on the web means being able to provide cutting edge education, information and inspiration in the areas of Type 1 Diabetes, Type 2 Diabetes, Diabetes Mellitus, Gestational Diabetes and Prediabetes.
Based on Recent Medical Journal Articles
Items in Medivizor's Library are summaries of recent medical journal articles.  Each summary has the following structure:
In A Nutshell-a short summary of the article
Some Background-information that the reader will need to understand the medical article
Methods & Findings-an explanation of what the researchers did and what they found out
The Bottom Line-conclusions that can be drawn from the research findings
and
The Fine Print-important caveats to the conclusions that are drawn in the study, for example, who funded the study.
Examples of the most recent Diabetes posts in the Medivizor Library include a summary of a September 15, 2016 article from The Lancet: Diabetes & Endocrinology and another September 15, 2016 article from the New England Journal of Medicine.
Thank you Feedspot for this honor!