Medivizor is pleased to share a few recipes by Holly Clegg. A graduate of Le Cordon Bleu Paris, Holly has spent over 20 years creating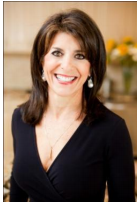 tasty, healthy, easy recipes that fit into today's lifestyle.  Her self-published trim&TERRIFIC® Cookbook Series has sold over 1 million copies.*
Part of her series includes specialized cookbooks for people with diabetes, those who are coping with cancer and for people who are dealing with arthritis.  She has graciously provided Medivizor with a few of her recipes.
Roasted Seasoned Salmon For Your Heart
by Holly Clegg*
Don't know how to prepare salmon?  Try this easy recipe for Roasted Seasoned Salmon from my cookbook, Eating Well to Fight Arthritis with simple seasonings that perk up salmon with a sweet and spicy rub.  Roasting is quick preparation making this recipe perfect for a last minute dinner.
Omega 3 fatty acids
Diabetic-friendly and absolutely delicious, salmon is a dish rich in protein and omega 3 fatty acids. Omega 3 fatty acids are heart-healthy essential nutrients that have a wide variety of benefits.   From reducing the risk of heart disease and stroke to reducing joint pain from inflammation, omega-3 is an important nutrient to add to your diet.
Eating foods rich in omega-3 is preferable to taking supplements because it is more readily absorbed.   Additionally, there is evidence that omega-3 supplements may interact with medications associated with blood clotting.   Research has shown that including omega 3 fatty acids in your diet can reduce the risk of irregular heart beat (arrhythmias), may reduce high blood pressure, triglycerides, reduce blood clotting and decreased risk for heart failure. The American Heart Association recommends eating fish, especially fatty fish rich in omega 3, at least twice (2 servings) per week.
Ingredients
PREP TIME 5 minutes    COOK TIME 12-15 minutes
Makes 4 servings
2 tablespoons light brown sugar
4 teaspoons chili powder
1 teaspoon ground cumin
1/4 teaspoon ground cinnamon
Salt and pepper to taste
4 (6-ounce) salmon fillets
Preparation
1. Preheat oven 400°F. Coat 11x7x2-inch baking dish coated with nonstick cooking spray.
2. In small bowl, mix together brown sugar, chili powder, cumin, cinnamon and season to taste. Rub over salmon and place in prepared dish.
3. Bake 12 – 15 minutes or until fish flakes easily when tested with fork.
Nutritional information per serving
Calories 257, Calories from Fat 29%, Fat 8g, Saturated Fat 1g, Cholesterol 80mg, Sodium 177mg, Carbohydrates 8g, Dietary Fiber 1g, Total Sugars 7g, Protein 36g, Dietary Exchanges: 1/2 other carbohydrate, 5 lean meat
For more easy, healthy everyday recipes, visit: thehealthycookingblog or hollyclegg.com
Holly Clegg's Bio
With over 1 million cookbooks sold, Holly Clegg has become a culinary expert on easy, healthy and practical recipes through her nationally recognized best-selling trim&TERRIFIC® and her more health focused Eating Well cookbook series, including newly released 15 YEAR ANNIVERSARY edition of Eating Well Through Cancer,(English, Spanish and Chinese editions), Eating Well to Fight Arthritis and Diabetic Cooking with the American Diabetes Association.  Clegg has appeared on Fox & Friends, NBC Weekend Today, QVC, The 700 Club, USA Today, Cooking Light Magazine, Web MD, and Huff Post.  She has consulted for Walmart, Teflon, The Coca-Cola Company, and hospitals throughout the country. Visit her YouTube channel and www.hollyclegg.com or http://thehealthycookingblog.com
* Virginia Lee Jackson, a 2004 graduate of Louisiana State University Nutrition/Dietetics, is a dietician consultant for Holly Clegg.