Cost
Medical care for cancer is costly. In addition, there is the financial burden that patients and families face in getting to and from the best care–which may be located at medical centers far from home. The situation can seem overwhelming.
Corporate Angel Network
Into this dilemma, little known resources have arisen to meet this challenge.
One of these is called The Corporate Angel Network.
Started in 1981 by two cancer survivors, Priscilla Blum and Jay Weinberg and by Leonard Greene, who lost his wife to cancer, The Corporate Angel Network (CAN) has flown over 45,000 patients to their care—free of charge.
They had a novel idea, use the empty seats on corporate planes for patients with cancer, patients who are bone marrow recipients and people who are donating bone marrow.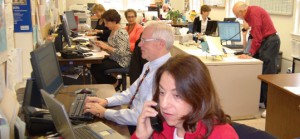 It works like this: no earlier than 3 weeks before an appointment, patients phone CAN and register with one of 50 part-time volunteers in the White Plains, New York office. CAN receives the flight schedules of corporate jets a week in advance and they start working to find a flight.
If a patient is matched, they receive free air travel to their treatment. Patients need to be ambulatory and, since this is not a "medical" flight, they cannot be on IV or oxygen.
Below is a video of a patient and family receiving this service.
Patients and caregivers can contact CAN by phone at (914) 328-1313.
CAN has around 600 flight departments of different corporations participating in the program and these departments provide between 200 and 225 flights per month. Forty-two percent of people who request a flight are matched with a free flight. "Sadly enough, we need more seats," says Dick Koenig, executive director of CAN. CAN's goal is to provide more opportunities for empty seats by increasing corporate participation. CAN recommends booking a "just in case" flight with the airlines.
National Patient Travel Center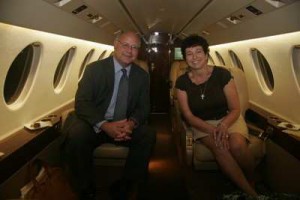 However, to increase the likelihood of obtaining free transportation for yourself or a loved one, there is an organization called the National Patient Travel Center which is an information and referral service. Its phone number is 1-800-296-1217.
Your Help
If you are interested in helping people with serious illness obtain free air travel, speak up and share the names and information about these organizations. If you work at a company that utilizes corporate flights, let them know about CAN. Finally, none of these organizations want patients with cancer to pay for life-saving travel. They request donations of frequent flyer miles that they can distribute to those in need. If you have any to spare, consider offering them to this very worthy cause. A little support goes a long way.