When Peter Devereaux learned he had breast cancer, he was dumbfounded.  He wrote in 2009,  "It was the first time I knew I had breasts….It is such a weird ordeal not only to have cancer, but to also have a women's cancer." Devereaux, like many others with male breast cancer, was caught at a late stage- 3b- in 2008.  In 2009, before he'd even completed his first set of treatments, the cancer had spread to his bones.  Sadly, after six years of treatment,  Devereaux died last week, August 21, 2014.  He was laid to rest, today, Monday August 25.
Devereaux has been a force in the Metastatic Breast Cancer movement. According to Metastatic Breast Cancer Network,  "If  the American Cancer Society  or Komen or other group were having a fundraiser, Pete was there.  He was a proud graduate of Project Lead, a 5-day course on the science of breast cancer in San Diego, put on by the National Breast Cancer Coalition."  He went to Capital Hill with other MBCN members to have a day, October 13th set aside, dedicated to Metastatic Breast Cancer.  He dedicated himself to be the face of male breast cancer, speaking on a regular basis about his cancer to media outlets and at fundraisers.
How can men get breast cancer? They don't have breasts.
Actually, both boys and girls have tissue that with the right hormones can develop breasts.  Breasts are made up of lobules, ducts and supportive tissue like blood vessels, connective tissue and fat  (called stroma).  At puberty, hormones in girls make the lobules grow, ducts and stroma increase.  Without significant female hormones, male breast tissue does not develop further and is made up of ducts but few if any lobules.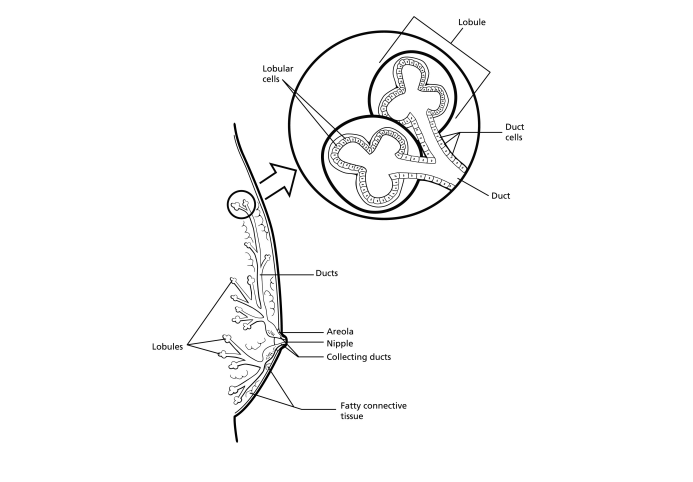 Rarity
Male breast cancer is extremely rare, less than 1% of all breast cancer cases are in men.  Those who develop it usually have a family history of breast cancer.  Many have a BRCA2 mutation or they could have Klinefelter syndrome (having an extra X chromosome, a male XXY).
But Devereau whose cancer diagnosis occurred at age 45, and 85 other Marines are a different group.  These Marines had been either stationed at Camp Lejeune or were the children of Marines living at Camp Lejeune between 1957 and 1987.
"Semper Fidelis" = "Always Faithful"
The story of the contaminated drinking water at Camp Lejeune, North Carolina can only be described as terrifying.  It has been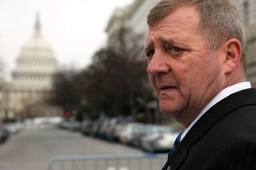 uncovered by an upset father, retired  Master Sgt. Jerry Ensminger.  (The link is an interview with Dan Rather in 2008.)
In 1975, Ensminger and his pregnant wife were stationed at Camp Lejeune. Born at LeJeune, their daughter, Janey seemed alright until age 6, when she was diagnosed with a rare form of leukemia.  She died, in 1985, after three years of painful, tortuous treatment.  Ensminger couldn't understand how his little girl had gotten leukemia.  Her death tore his life and marriage apart.
Skip forward to 1997.  Ensminger was at home, watching the lead story of his local news station.  The story was on a report by the Agency for Toxic Substances and Disease Registry  (part of the CDC) that linked a list of toxic chemicals in the drinking water at Camp Lejeune with childhood cancer, primarily leukemia.
That news report started Ensminger on a quest for answers.  He started asking questions of the Marines and the Navy. After starting a group The Few, the Proud, the Forgotten, he found a fellow Marine, Major Tom Townsend, whose 6-week-old son had died mysteriously while he was stationed at Camp Lejeune.
They worked for six years, requesting records under the Freedom of Information Act. A lucky break occurred when the Marines inadvertently posted online incriminating documents that Ensminger and Townsend had previously been unable to obtain.  They used those documents to create a timeline of events and cover-ups which led to several hearings on Capitol Hill.
"We take care of our own" is the slogan of the Marines. As a drill seargent, Ensminger had trained Marines to believe this. Yet as Ensminger says of The Marine Corp, "They're protecting the institution over the health and safety of the people who serve them." The Marine Corps didn't notify anyone of their exposures until required to in 2008.
"What Did You Say Was In The Water?"
Nearly a million Marines and their families cooked, bathed, swam and drank water containing volatile organic compounds that are carcinogenic (cancer-causing) toxins between 1957 and 1987.  Camp Lejeune's drinking water was contaminated at levels up to 280 times what is currently considered safe by the Environmental Protection Agency. TCE (trichloroethylene), PCE (Perchloroethylene), benzene, vinyl chloride  came from waste disposal sites, leaking fuel farms and industrial spills and are just some of deadly chemicals Marines and their children drank or absorbed through skin.
Devereaux's Connection
Devereaux was stationed at Camp Lejeune from 1981 to 1982. Five months after he received his breast cancer diagnosis in 2008, while on chemotherapy, Devereaux received a letter. Fulfilling a mandate from Congress, it was notification from the Marines that he had been exposed to carcinogenic substances in the Camp Lejeune's water.
"I gotta let others know…I wish they'd let us know 20 years ago, and it could have been a different result for me," Devereaux told a reporter for Mother Jones. And he was right, if he had known, he could have been checked on a regular basis via mammogram. The cancer might have been caught at an earlier stage.
In February of this year, findings of a study conducted by the CDC were made available. The study compared deaths of Marines stationed at Camp Pendleton and Camp Lejeune.
Compared to Camp Pendleton, the Camp Lejeune group had higher mortality rates for the following causes of death:

Cancers of the cervix, esophagus, kidney, liver, lung, pancreas, prostate, rectum, and soft tissue
Hodgkin's lymphoma
Leukemias
Multiple myeloma
Multiple sclerosis
The higher rates for kidney cancer, cervical cancer, Hodgkin's lymphoma, leukemias, multiple myeloma, and lung cancer were mainly among those with higher cumulative exposures to the contaminants.
Another study on male breast cancer is underway, results being made available in 2015.
"One in Ten Americans Live Within Ten Miles of a Contaminated Military Site"
In 1989, Camp Lejeune was named a SuperFund Site. Below is a map of contaminated military sites (The interactive map is here).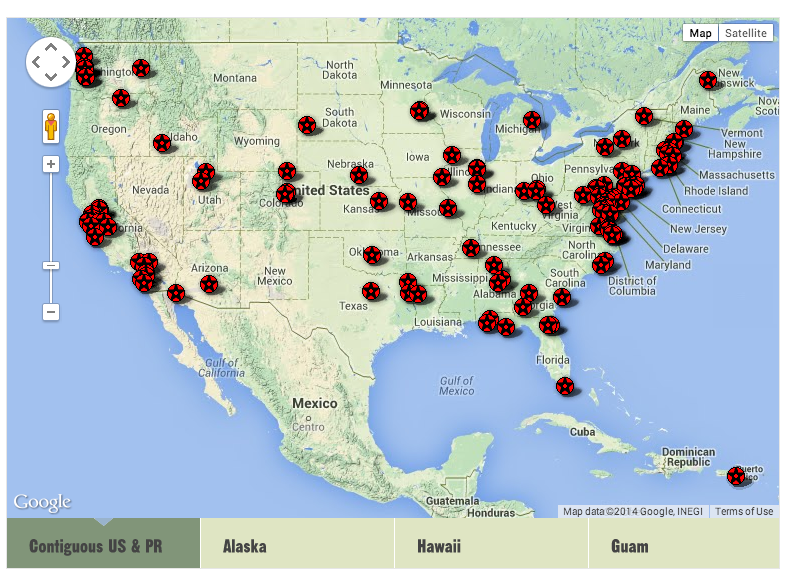 In 2012, President Obama signed into law called the Janey Ensminger Act which
Presumes a service connection, for veterans' benefits purposes, for any illness associated with contaminants in the water supply at Camp Lejeune, during a period in which the water there was contaminated by volatile organic compounds, including known and probable human carcinogens, notwithstanding evidence of such illness during such period.

Makes family members who resided at such location during such period, or were in utero during such period while the mother resided at such location, eligible for hospital care, medical services, and nursing home care through the Department of Veterans Affairs (VA) for any condition or disability associated with exposure to such contaminants.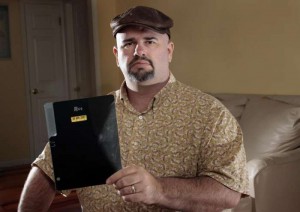 Yet this is not enough, according to Michael Partain. At age 39, Partain found a lump. He was conceived and born at Camp Lejeune Marine Corps Base in 1968. He states,
"What disturbed me the most was to learn that the Marine Corps had known about this contamination since 1980. They allowed it to continue until 1985 and then reactivated a contaminated well because of water shortages until 1987. While all this happened after I was born, it did not sit well with me to know that the organization my family loyally served could do such a thing. Then Jerry Ensminger told me about a set of Naval instructions regulating potable water at Marine and Navy installations. It dated back to 1963 and, if followed, would have prevented most of the human exposures aboard the base… including me."
Rest In Peace Peter Devereaux
Peter Devereaux leaves a wife and 16 year old daughter.  We offer sincere condolences to all his family.  Here are details from his obituary to honor Peter.
"A funeral mass will be celebrated on Monday, August 25, 2014 at 10:00 a.m. in St. Michael's Church, 196 Main Street, North Andover, MA. Burial will follow at St. Mary's Cemetery in Salem, MA. In lieu of flowers, donations can be made to the Peter C. Devereaux Fund, TD Bank North, 451 Andover Street, North Andover, MA 01845."
If you believe that you have some connection to Camp Lejeune, North Carolina between the years 1957 to 1987, please check out the two websites, The Few, the Proud, the Forgotten and Semper Fi: Always Faithful.