In November 2013, Medivizor started a campaign of Thanks, donating funds to four organizations that do amazing amounts of good for people with breast, colon, prostate cancers and diabetes. One of those organizations was METAvivor.
METAvivor's Mission
METAvivor's mission is:
METAvivor exists to sustain hope for those living with metastatic breast cancer (MBC). Passionately committed patients ourselves, we rally public attention to the urgent needs of the MBC community, help patients find strength through support and purpose, and make every dollar count as we work with researchers to regain longevity with quality of life.
WHAT WE DO
Awareness: We bring attention to the specific issues of stage 4 metastatic breast cancer, and raise public awareness about the facts of the disease. With 30% of breast cancer patients metastasizing, our goal is to see to it that 30% of breast cancer support and funding for research is dedicated to metastatic breast cancer
METAvivor attempts to explain that people diagnosed  at stage 0 to stage 3 can still die of  metastases. Metastases can occur long after the initial diagnosis.  METAvivor's work is purely by volunteers (much of it led by people with metastatic breast cancer)…100% of the money that is donated to METAvivor goes to research on metatastatic disease. This is unique among organizations raising money for breast cancer.
The Elephant in the Pink Room
In 2012 METAvivor created a campaign to bring awareness of Metastatic Breast Cancer called  "The Elephant in the Pink Room."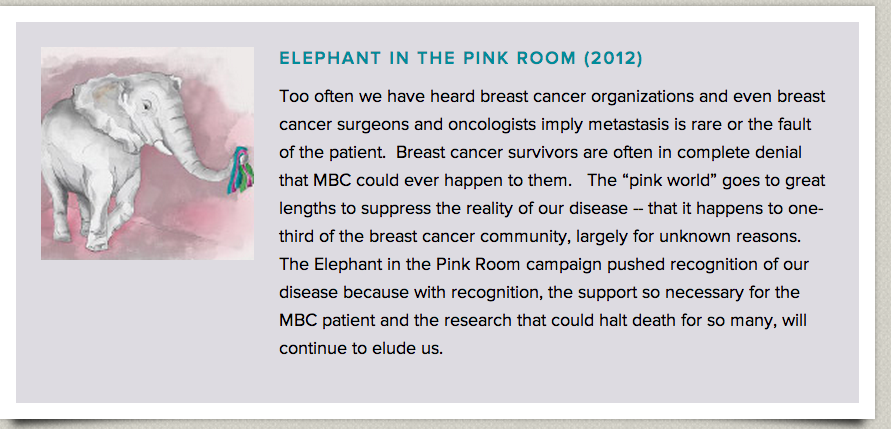 The start of the campaign can be seen at this link.
The Pink Elephant In the Room
Much to METAvivor's surprise, last month (February 2014), Kohls and the Komen Foundation came out with a campaign featuring a pink elephant in the room.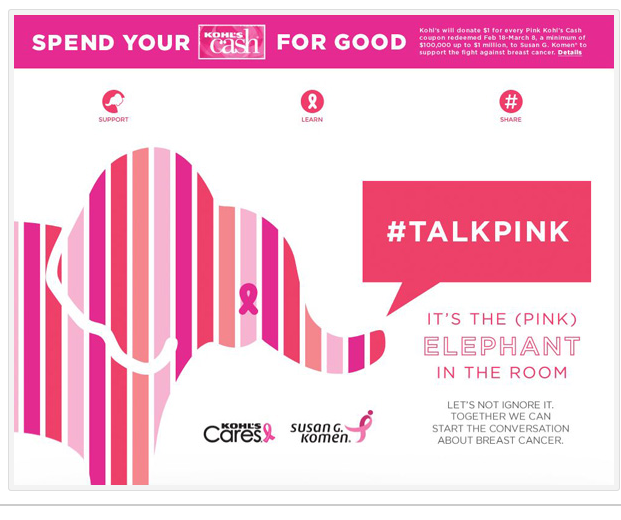 Many on Twitter and in the breast cancer blogging community have written about this campaign.
Here is a short list:
Even Psychology Today posted Kohl's Cash for the Cure Pretties up Breast Cancer, March 7, 2014.
There has been discussion between METAvivor, Kohls and the Susan G. Komen Foundation.  METAvivor has even obtained the services of the law firm Carlton Fields Jorden Burt, P.A. to represent METAvivor pro-bono. This contribution allows METAvivor to continue to use its donors contributions purely for research on metastatic disease.
What do you think? Is there a case here?