In 2007 Scott Haig, an orthopedic surgeon, wrote "When a patient is a Googler" which was published in Time Magazine.  He describes a patient that he names Susan, the "queen of Googlers."
"Every doctor knows patients like this. They're called 'brainsuckers.'"
His article praises patients that are nurses and engineers,
"Nurses are my favorites — they know our language and they're used to putting their trust in doctors…engineers, as a class, are possibly the best patients. They're logical …they're accustomed… to consultation…They know how to use experts."
He then complained about two types of patients,
"Some patients are non-compliant Bozos who won't read anything longer than a headline. They don't want to know what's wrong with them, they don't know what medicines they're taking, they don't even seem to care what kind of operation you're planning to do on them. 'Just get me better, doc,' is all they say….At the other end of our spectrum are patients like Susan [the Googler]: They're often suspicious and distrustful, their…sentences burst with misused, mispronounced words and half-baked ideas. Unfortunately, both types of patients get sick with roughly the same frequency."
Perhaps this physician needs a lesson on health literacy.  Maybe in the case of the "non-compliant patients that don't "care," this doctor could be educated that patients are often overwhelmed during an office visit, especially if they are receiving bad news.  Or perhaps the patient does not understand directions on medication bottles or the sometimes difficult post-operative discharge instructions. Maybe those patients can't even read these instructions because the patient has low literacy.  As for the Googler who is trying so hard to pronounce difficult words, could this physician empathize or understand the embarrassment that many patients feel because they don't know how to pronounce medical phrases?
Reading this physician's words suggests the question, has anything changed in the last 5 years?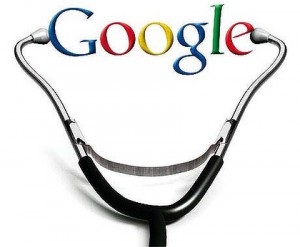 Well, one change is that more and more patients are online looking up health information.  As of July 2013, 80% percent of Internet users, or about 93 million Americans, have searched for a health-related topic online, according to a study by the Pew Internet & American Life Project.
To learn more about google searches and the experiences of both physicians and patients, I began reaching out to patients and physicians via LinkedIn and email.
When patients were asked if they brought health information from the Internet to office visits and how their doctor reacted, one patient wrote,
 "Yup.   And he sits back in his chair, crosses his legs, takes in a breath… and belittles it."
Another patient commented,
 "I've had similar experiences to [first patient above] so now I just say I heard something about this new treatment etc…what do you think about this? It is as if asking for an opinion helps in not getting their defenses (ego) up."
Yet another opined:
"I have never brought a printout with me but will ask about info I learn. My feeling is it is more acceptable when it is not a printout from somewhere online… It is a sign of a good doc who does not feel 'challenged' when a patient presents them with information."
What are the best ways for patients to present information to their physicians?  What are the experiences of patients and physicians with respect to Internet health information?  Have we learned anything in the last 5 years?
The next post will describe the results of two surveys, one of patients and one of physicians, conducted earlier in October.  We'll see what patients and physicians had to say about their experience and best practices.
This video from ACP Foundation demonstrates that people of all educational levels can have poor health literacy.