Hello! My name is Rann Patterson, and I am so glad that you stopped by today!   I am a writer and editor, and a two-time cancer survivor and will be popping in every now and then to talk about the topic of survivorship.
I was a very naïve 26 year old when I became ill the first time and it was long before the internet existed.  I had to gather information the old-fashioned way back then.
I am now 56 and have learned so much in three decades.  Survivorship is not just a topic to me…it is a lifestyle, or it has become a lifestyle.  It took me years to level out physically and emotionally.  Sometimes we need more knowledge about our condition, and sometimes we just need to know that someone cares about what we are going through.
Let me tell you a little about myself. I was born in the beautiful and lush Deep South of the United States in the city of Birmingham, Alabama.  I still live close by in the lovely northeastern corner of the state in the town of Gadsden.   At the edge of our town is the very foot of the Appalachian Trail.  A beautiful waterfall is the exclamation point at its end, and looks spectacular after a heavy rain.
The area is chock-full of artists and musicians and most of us enjoy good food and music!  Sounds like a lot of life going on, doesn't it?  Well it is, And I am going to take my personal experience and offer practical wisdom to help you break down your survivorship into pieces that will help make your days a little easier.

What is Survivorship?
It's not only a big name, it's a big job.  Basically what it is, is what a patient does as soon as they get home—from the doctor, hospital, or when the treatments end.  It's when you get home and you have to check your own temperature, get your own bath, and cook your own food – and you don't feel like it!  Whether you're single or have a family, it's not easy.  Life seems to change overnight and adjustments must be made.  If you have a family, the entire family has to adjust.  Life becomes something different, and it's not easy.  It takes time and much effort, but it is possible to do.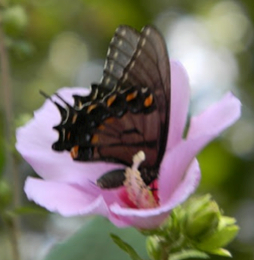 Remember to stop so you can catch
the butterflies in your viewfinder!
The more you know about your condition, the more peace you'll have in mind and heart.  Your family and friends will know how to help you more, and will understand you better.  That's important, because it's not healthy for us to be isolated because of ignorance—whether it's ours or someone else's.  That's what Medivizor is here for, to help you gather the knowledge that you need to know so that your quality of life is the best it can be.
It's nice to meet you, and I hope that you'll stop by again soon!
"In three words I can sum up all I've ever learned about Life. It goes on."  ~Robert Frost